>How it all began
I am often asked what it was that got me interested in these little dogs ..many years ago (before the Kennel Club recognised this type of dog as a breed) we had a Hunt Terrier called Poochie. She was a very special little dog, a fierce guard of the car and my constant "shadow" . she was admired wherever we went and there will be photos and videos of her all over the world . taken when we were out and about with her. She lived to be almost 19 years old and when the time came for her to "go over the bridge" we were totally devastated. It was almost 9 months later that I saw a little dog on the National Lottery advert and after many phone calls I tracked down the breeder who in turn put me in touch with the, then, recently formed Parson (Jack)* Russell Terrier Club. Our first registered PJRT was Pickle. She was followed a year or so later by Sonny and the following year by Bella (her grand daughter). It was Bella who was to be the foundation for the future generations of our dogs.
Jack was dropped from the name of the breed in August 1999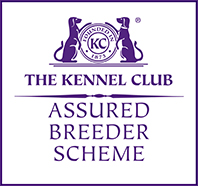 I am a member of the Kennel Club's Assured Breeder Scheme. You can find out all about this scheme by following the link above.