Welcome to our website
We are a small kennel breeding Parson Russell Terriers,㩴uated on the outskirts of the City of Oxford.祠overlook a golf course and have plenty of open space within a short walk from the front door.祠share the local粥en spaces with foxes, badgers, muntjac,㱵irrels, rabbits and roe deer which roam the area and can sometimes be seen right outside our front door;೿we need to keep our wits about us when walking the dogs!쯿
The dogs live in the house with us as companions and take turns in coming to work with me.൰pies are reared indoors with us and live as part of our extended family.
My thanks to all the photographers for the great pictures they have taken of my dogs:
Tracy Morgan, Animal Photography Tel: 01494 883176; Steve Jefford, K9Photos.co.uk and Nick Ridley, (www.nickridley.com) - their work is Copyright and may not be reproduced without their written consent.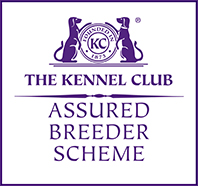 I am a member of the Kennel Club's Assured Breeder Scheme. You can find out all about this scheme by following the link above.